MUSIC DATABASES

One of the largest music database in the cyber space. It also has details/reviews on most of the albums ever released.

The first 'true' music channel dedicated to music movements, and brought music videos to everyone's living room.

One of the most popular music television channel. Focus on popular culture and music-related reality programs.

The huge database of UK top40 hits.

The biggest online database dedicated to novelty musics, crazy tunes, and comedy artists.

The online information on everything pop cultures. Their music pages has review of musics from 1800s to the present year.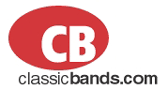 This webpage has many biographies of rock bands from the old days. The highlights include many old video clips They are from YouTube, so don't surprise if you find some of them have been deleted.

One of the most trusted name in music research field, specialize in Billboard chart history. He has published many books on every genes of popular music.

Collections of every trevia details about songs and artists. Most of the information came from the readers.
MUSIC MAGAZINES & NEWS

One of the most popular music magazine. Tons of music information including artists' info, songs' info, chart position, etc.

Another popular music magazine. It contains lots of info except the chart position.

UK monthly music magazine owned by Bauer Media Group. The brand now has extended to Q Radio, Q TV, and annual Q Awards.

Another UK monthly music magazine by Bauer Music Group. It concentrates mostly on classic rock music.

A popular and widely-distribute monthly music magazine based in London.

New Music Express is a popular UK music magazine. The first publishing in UK to have singles chart. Update very frequently.

Very informative music news site. Also has many information on guitar and other music technologies.

This site seems to have every size of news and gossips in the music world. Also contains large collection of interviews

One of the most up-to-date sources on hard rock & heavy metal musics. Also has touring information of many artists.